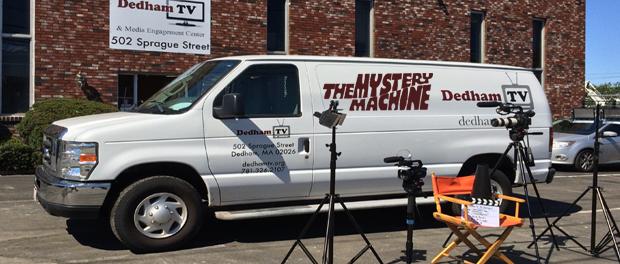 Wanna Be On TV? Dedham TV Will Cover Your Event!
We've Got You Covered!
Dedham Television is always happy to cover special events, programs, and newsworthy happenings in and around Dedham Massachusetts, the surrounding communities, and beyond!
We love working with event planners, community organizers, charitable institutions, holiday events organizers, social activists, and many more special interest groups with regards to covering their events and broadcasting them over our cable access channels and Internet channels (VOD and Live Video-Streaming).
We have just a few simple rules:
All events, programs, or happenings must be newsworthy in some form or another. For example, the arrest of a Town of Dedham Mass' Board of Selectmen member protesting the construction of the West Roxbury Lateral Pipeline (A.K.A. the Algonquin Pipeline Project) through Dedham was a newsworthy event that we captured on video and broadcast. Also, that lead to the production of a special program about the hotly contested Algonquin Pipeline issue now facing the town called CROSSROADS: DEDHAM FIGHTS THE PIPELINE.

This special panel discussion with an audience Q&A was produced in partnership with Dedham TV, private citizens concerned about the pipeline, and several community activist groups. Newsworthy events also include things like holiday specials such as The Dedham Square Holiday Tree Lighting, or the Seniors On The Move Senior Prom, or Dancing With The Dedham Stars, or Noble and Greenough School — Stamp Out Hunger — 2014, and more! Not sure if your event is newsworthy, simply contact us and we'll discuss it with you.

All events must have something to do with the residents and Town of Dedham Massachusetts. We're more than happy to go outside to the surrounding communities (or farther) to cover an event as long as it as relates to Dedham in some way. For example, in 2014 the Town of Dedham Mass was one of the finalists in the All-America City Awards happening in Denver Colorado. We sent someone there to cover that for Dedham. And lots of times we'll follow Dedham Public School students into Boston Massachusetts to video a special performance or event. Just contact us and we'll discuss your idea and whether or not we'll be able to go out to it.
All events have to conform to certain broadcast standards of ethics, copyright enforcement, family friendly content, and refraining from slanderous and hateful speech. We welcome political discussions such as we had with our 2014 Board of Selectmen Debates and Women's Political Forum 2014; as long as, hosts, panelists, and guest conduct themselves in a respectful and professional manner. We also welcome fun, exciting, and creative live or dramatic performances—as long those contributors are abiding by the aforementioned civil standards we at Dedham TV are proud to uphold. Again, any questions please contact us and we'll let you know if we can broadcast it.
All events must be broadcast-able (as long as they conform to the aforementioned rules). In other words, the event that we cover has to be something that we would and want to indeed broadcast over our cable access channels, VOD, and live video-streaming channels. If we cannot broadcast it, then we cannot cover it. That being said, if you have an event that you would like us to record a video for and/or produce a show for (with professional editing and distribution) then our studio, equipment, and Media Engagement Center post-production resources are available for rental at exceptional rates!
Finally, for any multi-camera event, we require at least two weeks notice prior to the event so that we may allocate resources and crew for the project. Single-camera events coverage can be requested at least one week in advance—subject to our production schedule commitments and available resources.
Why work with Dedham Television?
There are a lot of benefits to working with such a professional staff of videographers, producers, writers, editors, musicians, and artists that you will find here at Dedham Television. Such as:
We provide all the cameras, equipment, lighting, and transportation to your event, program, or happening if occurring offsite. We even have our version of the Scooby-Doo van!
If your show is a special that we can shoot in The Studio, then you have access to a state-of-the-art film and TV studio production facility that is the largest publicly-held studio in New England.
We have an amazing amount of post-produciton resources and video-distribution options through our Media Engagement Center to get your event edited, broadcast, and uploaded quickly and professionally.
Dedham TV will also provide a custom produced hardcopy DVDs to the organizers of the event being covered. Other hardcopy distribution media options are available—contact us to learn more.
And finally, your event, program, or happening will be promoted through our social media marketing channels (see the social media icons below). And depending on how big the event is, we can provide additional PR options for local print and online publications.
Ready to get started?
Fill out this simple form below.
[contact-form-7 id="305″ title="Cover My Event Please!"]
Or call Dedham Television's Executive Director, Donna Greer, directly at (781) 910-5153; or email dedhamtv@gmail.com.