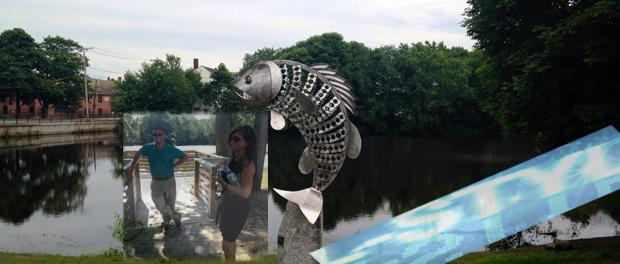 L-Style Fall Production Candids from Mill Pond Park
Lorraine Morandi Visits the New Mill Pond Park with Brian Keaney, as Mother Brook Turns 375!
As the Town of Dedham celebrates the 375th anniversary of its famed Mother Brook (see inset below), last week L-STYLE WITH LORRAINE MORANDI went on location to the newly opened Mill Pond Park in Dedham Massachusetts. Show host Lorraine Morandi was joined by Brian Keaney, clerk from Dedham's Commissioners of Trust Funds. Together they talked about the wonderful parks, trails, and natural wonders that the Town of Dedham has to offer visitors who want to explore our little hamburg—off the beaten path.
In 1639 part of the Charles River was diverted to power a new stone mill built by Abraham Shaw (who died a year earlier before the first mill in Dedham was completed). The diverted water way became known as Mother Brook. Over the centuries the brook became a major local water way for mills, commerce, and currently nature-seeking tourists. The edifices located along the old brook are historical monuments and reclaimed mixed used buildings. Several associations over the years have incorporated Mother Brook into their names such as the Mother Brook Community Group, the Mother Brook Arts and Community Center, Riverside Theatre Works, the Mother Brook Club, and Mother Brook Coalition.
Stay tuned for a new lineup of shows and specials coming to Dedham Television this Fall!
Below are few candids from the shoot: