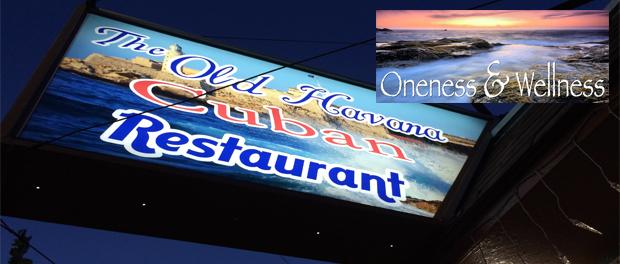 Oneness and Wellness Gets A 'Taste' Of Cuba!
Dinner At The Old Havana Restaurant—Much More Than Just Food!
[su_carousel source="media: 411,410,408,407,406,402,404″ limit="7″ link="custom" target="blank" items="7″]
On a warm Tuesday night, September the 8th, a bunch of us from Dedham TV and Oneness and Wellness headed over to the Old Havana Cuban Restaurant in Jamaica Plain (a popular Boston Mass. neighborhood).
We were there to kick off an upcoming trip to Cuba for the host of Dedham Television's Oneness and Wellness program, Dot Walsh. Joining her on this voyage would be DTV's own Director of IT, Operations, and Training, Dan Hallissey. Only in this capacity Dan will be Dot's cameraman on the Caribbean island nation of Cuba.
Recently, US President Barack Obama and Cuban President Raoul Castro cleared the way to normalizing relations between these two countries. Therefore, with Cuba officially opening up to the rest of the world (specifically America), Dot Walsh felt that this was a prime opportunity to visit this enigmatic country and see for herself what life is currently like and what it may be like in the República de Cuba.
So on this evening, Dot Walsh and her husband Andy Celley (a professional musician and friend of Dedham TV), Dan Hallissey and his wife Rhada, DTV's Executive Director Donna Greer and her husband Michael Shervannian, and Dedham TV's PR Director Nick Iandolo, all sat down for a wonderful exotic Cuban dinner.
And what we got was so much more than food!
We got a little taste (pardon the pun) of Cuban culture from the owner of the restaurant and his wife: Sixto and Wendy.
First up was meeting Wendy how was our hostess for the evening. With Univsion playing in the background on the wall-mounted television, and authentic cuban music filling the air, the night was ripe for a nice cultural exchange.
Wendy, who is a native of the Dominican Republic, both took our drink orders and gave us her impressions of Cuba when Dot ask what she thought.
Here's a little snippet of the discussion from @DedhamTVTweets on Twitter:
Wendy, from the Dominican Republic, shares her thoughts on #Cuba. #OnenessandWellness #CUBAandUSA pic.twitter.com/WU6pEQ1BEO

— Dedham Television (@DedhamTVTweets) September 9, 2015
Next, came ordering some appetizers and entrées. We got a huge plate of Tapas and fried green plantains with cilantro dip. Yum!   For entrées, we all had different dishes we wanted to try. Rather than describe them, take a look at the image carousel above!
After we were all completely satisfied with our meals, we talked about various topics from education to politics. I kind got distracted Tweeting and Facebooking throughout the whole meal until Dan said to me, "Stop Tweeting; start eating!" Hahaha! He was so right!   We were there having such a good time that we didn't even realize we had closed down the place! That's when we got an unexpected visitor to join our group: Sixto! He was a native Cuban who had been in the U.S. for over 40 years! He had fled Castro's regime at a young age. Well we were all overjoyed to meet him—especially Dot!
Dot and Sixto got into a great conversation about the realities of the newly reestablished ties between the United States and Cuba. One of the things that Dot was wondering had to do with American businesses opening up locations in Cuba. Would that help the local Cuban economies and the people in general? Sixto didn't seem too confident that such new enterprises would be helpful in the short run—as you can see from the following video posted on Dedham TV's Facebook page.  
Finally, the evening ended with a nice exchange of contact info and a promise to followup with Sixto, Wendy, and The Old Havana Cuban Restaurant after Dot's trip to Cuba—perhaps even filming an episode of Oneness and Wellness at the restaurant itself.
All in all, it was a wonderful night of Cuban food, culture, and people…
Dedham TV definitely gives this little cultural culinary restaurante 5-Stars for the food and the staff!