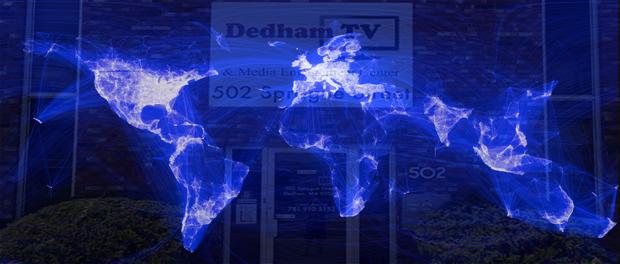 Welcome To Dedham TV's New Internet Home!
A New Digital Chapter Begins For Dedham Television!
Today begins a whole new chapter in the story of Dedham TV's ever advancing push into 21st Century digital media production, video-streaming, and web-based content, and cloud-based programming distribution—and it all starts with DedhamTV.com!
Back in 2009, Dedham TV launched its then new website at www.DedhamTV.org.
At the time, the website was a custom built web design based on a highly modified WordPress template (i.e. Wave) and lots of custom PHP code programming. For its time, it was a very sleek and functional website offering a bevy of simple features, pages, and studio information. It served the studio well for many years.
However, over time more and more demands were put upon the website and its user interface became outdated and difficult to tweak up to more modern standards.
Finally, the decision was made to register some new domain names for Dedham Television and build not one but two new websites at www.DedhamTV.com & www.DedhamTVLive.com.
And so began a new digital chapter for Dedham Television.
The New Top-Level Domains & Rebranding
We wanted a new, sizzling, and interactive website design that is full of great features, highly customizable, and easy to build and update. Therefore, we are now using the latest version of WordPress, coupled with a great new template from MH Themes called MH Squared, and a host of exceptionally robust WordPress plug-ins like Shortcodes Ultimate, TablePress, and more!  Our webmaster also uses HTML, XML, and PHP coding when necessary, along with custom graphics created with Adobe Photoshop, and promotional videos edited with Apple's Final Cut Pro X and Adobe After Effects. We're pouring everything we have into this great new website (and more) to bring you the very best programming content this side of New York's Rockefeller Center! We are very happy to present to you this wonderful new website at DedhamTV.com and its sister site at DedhamTVLive.com!
The flagship site (this one) is everything that we've been looking for starting with a new Dot-Com top-level domain name. Dedham Television is so much more than just a local cable access station and we wanted to represent that by switching from Dot-Org to Dot-Com to show that we also provide a host of commercial and professional services beyond just producing cooking shows and covering high school football games—though those are very important to us as well.
And all of that compliments our rebranding initiative. One of the first things that we did to get us into the 21st Century vibe was to update our logo. Keeping the same color scheme that we have grown to love, we felt that the best way to bring the logo into more modern times while retaining the essence of who we are was to change the old retro-TV graphic to a new modern flatscreen TV graphic. Gone are the days of the old bulky and static Cathode Ray Tube (CRT) television screens with a paltry 720 x 480 pixel resolution (A.K.A. Standard Definition or SD). Now we have sleek, light, fully-interactive High Definition or HD (1920 x 1080 pixel resolution and counting with 4K on the way!) Smart TVs totally connected to the Internet! Therefore our new logo needed to reflect that. And it does!
Dedham Television and Media Engagement Center is rebranding in other areas as well! Everything from our new websites, business cards, signage, marketing collateral, to our B2B with DTV! marketing campaign is all part of a bold new transformation for Dedham Television!
Including updating our tagline from "Watch It!" to "Integrated Media for a Connected Community!"
Stay tuned because there is a lot more coming up for Dedham Television!
Why?
Read on…
So Much More Than Cable Access!
First of all, we house the largest publicly-owned film/TV production studio in New England! 48,000 cubic feet of sound stage to be exact! Secondly, our main facility is jam packed with all the modern features a professional production company would come to expect from a studio such as: soundproofed walls, an array of built-in lighting options, a massive green screen, and a giant receiving bay that leads directly into the studio big enough to fit a boat through!
Furthermore, our Media Engagement Center (A.K.A. The MEC, located on the second-floor of our facility) is fully-loaded with the latest in video editing bays, software, and training equipment in video production. We produce shows that are top-notch, in HD, and edited with the best post-production software available outside of Hollywood! The MEC also features a wall-sized blue screen for smaller intimate video shoots that don't require the full studio experience.
We Do It All In The Cloud!
Dedham Television has also moved to a whole new level of cloud-based services for its staff, producers, clients, associates, and viewers. We have 3 new Video-On-Demand Channels, Live-Video-Streaming, and Internet Digital Simulcasts of our over-the-air programming. We also use the cloud for media storage utilizing Google Drive, staff training through Lynda.com, and for public relations/social media marketing!
To connect with us in a number of ways on social media simply click on one of the social media network icons below and start a digital dialogue with us!
Check Us Out!
We welcome you to spend a lot of time pouring through this website and its sister site to learn all about Dedham Television and Media Engagement Center.
Be sure to check out our A-Team members' bios, plethora of entertainment shows, our What's New! blog, featured videos.
And coming soon, our Studio 50-oh-2 News! newsletter, Dedham TV Logo Store, and more!
It's all happening here at DedhamTV.com!
---
Integrated Media for a
Connected Community!